CYBERWISER.eu delivers a flexible, risk-centred, capacity building platform, combining a theoretical and practical approach to cybersecurity with innovative features (including a cutting edge cyber range). CYBERWISER.eu implements customisable training pathways in cybersecurity to fit a broad range of needs and capacity building targets.
The CYBERWISER.eu services are delivered online through this website, which constitutes the unique access point to the capacity building platform.
The CYBERWISER.eu platform is sketched in the figure below.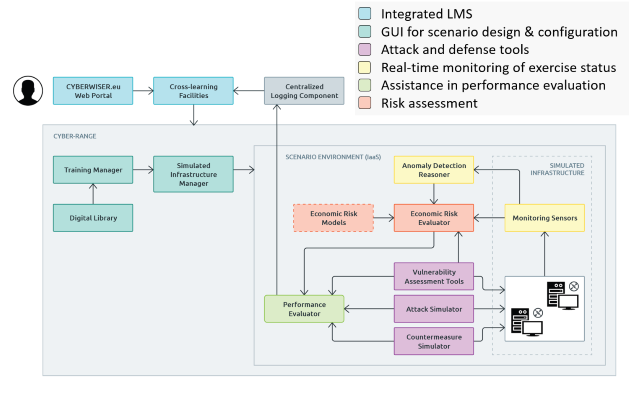 Upon registration, users are able to access their dedicated space (called Cross-Learning Facilities) where they can start their learning path.
Our cybersecurity training proposals
The Cross-Learning Facilities are composed of a home-base space in which users can communicate, exchange messages, share document and files, and access the training resources, which are organised on two different offering levels:
Offering Level
Description
Benefit
Topics
PRIMER
Primer covers basic skills and targets a very broad audience. The aim is to raise awareness amongst those users of the Internet, mobile devices and networks who have little knowledge of cyber risks and their socio-economic impacts.
Primer also represents an entry point for companies wanting to increase employee awareness and initiate basic, "digital sanitation" activities.

For employees and private individuals alike, each course within Primer is a stepping stone to building a strong cyber posture. After completion of the full suite of Primer courses, trainees will be equipped with:

A broad overview of basic cybersecurity concepts and best practices in a variety of contexts.
New knowledge of cybersecurity terms, of the types of cyber-attacks prevalent in the digital economy, and of the most common threats and how to detect them.
An appreciation of the importance of basic risk analysis and assessment techniques in a fast-evolving cyber-threat landscape.
Access to a constantly updated source of information via CYBERWISER.eu and its newsletters.
Testing and confirmation of skill level through quizzes and personalised certificates.

Introduction to cyber-risk analysis and cybersecurity                 
Awareness of Phishing   
Awareness of Password Weaknesses     
Awareness of Ransomware     
Awareness of Data Leakage     
Awareness of Insider Threat     
Introduction to cyber-risk assessment

BASIC
The Basic offering level targets users that are familiar with cybersecurity and want or need to test and improve their skills at a higher level. Targets include cybersecurity clusters, students and young professionals in higher education, SMEs and LEs, civil society organisations and citizens, public administration employees.
As such, the Basic level offers users, more complex courses and training materials, as well as a first look at the cyber-range training with simple, pre-defined training scenarios, giving them access to "real" use case scenarios as defined by the CYBERWISER.eu team.

The Basic level provides training features needed by almost every organisation dealing with IT security and is specifically designed for users with limited training budgets and basic training needs such as SMEs.
As such, the courses provide:

A simple and accessible environment for professional training.
A basic training environment.
A customizable tool even for very small teams

 

Describe target of analysis, level 1
Identify and describe security assets, level 1
Identify and describe threat profiles & high-level risks, level 1
Identify risks, level 1
Awareness of Password Weakness
Each offering level comprehends different courses on specific topics based upon a mix of training material, slides, video-lessons, online tests and cyber range simulations.
At the Basic level the first cyber range capabilities are available. In particular, the Infrastructure as a Service components is available for the deployment of scenarios on which the training exercises are generated. This deployment is managed by the Simulated Infrastructure Manager allowing access to the machines and components available in the scenario environment as defined in the Digital Library, the repository for all the different elements that may be incorporated into a training activity depending on the requirements of individual simulation scenarios or the exercises to be run.
In the coming months, as new capabilities are added to the platform, the Consortium will issue two more offering levels with more advanced courses to complete the full suite of offering.