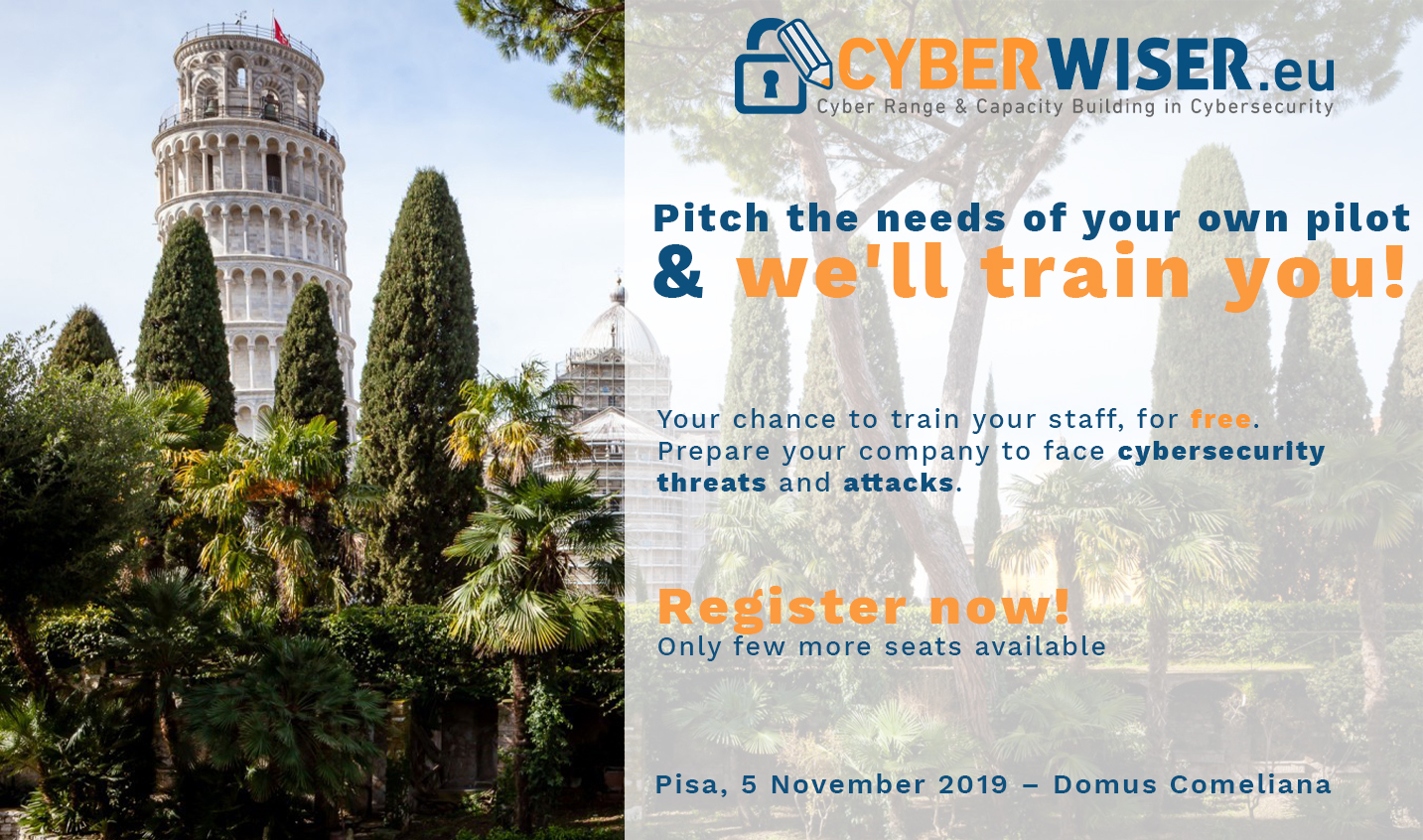 Date:
Tuesday, 5 November, 2019 - 08:00
CET
Your chance to train your staff, for free
Prepare your company to face cybersecurity threats and attacks
Pisa, 5th November 2019 – Domus Comeliana, Via C. Maffi 48
Cybersecurity has become a major priority for organisations looking to protect themselves against cyberattacks. And in the face of rising concerns about risks to information security, companies and organisations around Europe are desperate for cybersecurity talent. Because without trained security professionals, organisations lack the capability to develop specific security processes to detect and prevent cyberattacks.
Content of the workshop
The workshop will showcase CYBERWISER.eu, an integrated online platform where organisations can train their staff in a simulated environment of cyber incidents and attacks, allowing both IT professionals and non-technical staff to hone and evolve their skills, continuously evaluating their performance as they prepare for future real attack episodes.
The workshop will also introduce the recently launched cybersecurity Competence Centre Pilot Projects. These projects will develop a wide range of tools and services to support the cybersecurity needs of SMEs across Europe.
Who should attend?
The workshop is for organisations, especially but not limited to SMEs, seeking a qualified entry point to cybersecurity training and advisory services.
Given that cybersecurity is not just an IT issue, the workshop will cater for both IT specialists and a wider audience including employees from all departments and at all levels of seniority.
What's in it for me?
If you're looking for guidance or a complete cybersecurity solution for your organisation, seize the opportunity to get in front of Europe's leading cybersecurity experts!
By participating you can:
Reserve your place in the first batch of Pilot users of the CYBERWISER.eu solution
Present your organisation to the workshop attendees in a dedicated session
Discuss the specific needs of your cybersecurity training pilot with the CYBERWISER.eu team
Test the platform in a live session
Meet cybersecurity experts from all over Europe and build your network
The bottom line
Jumpstart your own Pilot with CYBERWISER.eu: Gain hands-on experience on the platform and outline the specs of your pilot with our team of experts.
Gain exposure to the European Competence Centre Pilot Projects: CONCORDIA, cybersec4Europe, ECHO, SPARTA.
Agenda
Timing
Session
10:00-11:30
Registration and Networking Welcome coffee
11:30-11:40


Motivation

Introduction and today's takeaways for you (Paolo Lombardi - Trust-IT Services, Italy)
11:40-11:50


Motivation

Cybersecurity and skills gap in Europe: Facts & figures (Gianluca Dini - University of Pisa, Italy)
11:50-12:00


Motivation

Filling cybersecurity skills gap: Why training matters for your business (Gonçalo Santos Martins, Energias de Portugal, Portugal)
12:00-12:40
Opportunities

EU Cybersecurity Network & Competence Centres: How your organisations will benefit? - Brought to you by Cyberwatching.eu

Moderator Nicholas Ferguson, Cyberwatching.eu coordinator

12:40-13:10
Opportunities

One-minute pitches from our Pilot Owners - Who you are and your expectations

Moderator Silvia Garbin - AON, Italy

13:10-13:30
Training
CYBERWISER.eu: The main elements of the Platform - Workspace, Learning Path, Advanced Tools and Cyber Range
(Niccolò Zazzeri - Trust-It Services, Italy; Gencer Erdogan - SINTEF, Norway; Anže Žitnik
- XLAB, Slovenia; Matteo Merialdo - RHEA, Belgium)
13:30-14:50
Training

Working lunch and interactive session on the Platform

Moderators Dario Varano, Mariano Basile - University of Pisa, Italy

14:50-15:00
Training

Building the cybersecurity workforce of tomorrow - Implement your own Open Pilot with CYBERWISER.eu (Antonio Alvarez Romero - ATOS, Spain)

15:00-16:00
Training

Networking &
1-on-1 hands-on breakout sessions customising your pilot on CYBERWISER.eu

16:00-16:15
Opportunities

Feedback from you and action plan

Moderator Paolo Lombardi - Trust-IT Services, Italy

16:15-16:30
Wrap-up and conclusion