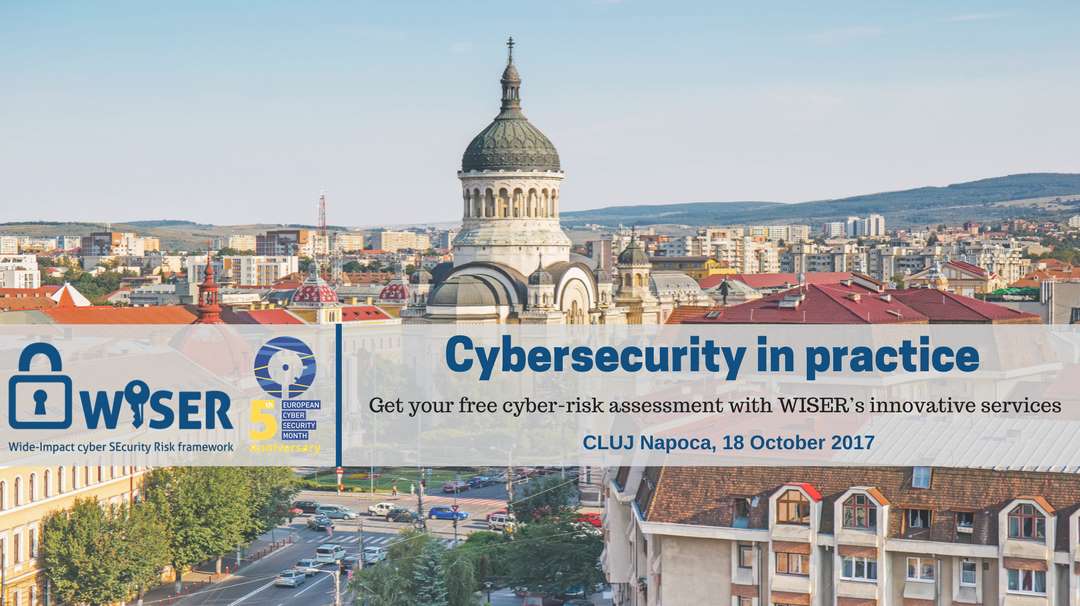 Date:
Wednesday, 18 October, 2017 - 07:00
CET
Venue: Impact Hub Cluj-Napoca, 21 Garii Street, New York Room - www.cluj.impacthub.ro
Title: "Cyber security in practice" - Get your free cyber-risk assessment with WISER's innovative services
Description: 
WISER lowers entry barriers to cyber security for small businesses and organizations, making it easier for them to build resilience in cyber space with user-friendly tools and services, at low cost and requiring few in-house resources, alongside essential guides on compliance with EU legislation.
Audiences will learn about how WISER is making cyber security accessible and affordable, especially for SMEs by breaking down barriers to effective cyber risk management thanks to free and easy to use tools to regularly profile their cyber risks and carry out vulnerability tests to stop attacks before they happen.

An interactive and practical demo session showcasing CyberWISER Light will give the audience the possibility to get a free of charge self assessment report for their organization with key insights on their cyber risks.

The workshop also features a sneak preview of CyberWISER Essential & Plus, which are upgrade services with real-time monitoring and advanced assessment of cyber risk through specific sensors deployed on the target infrastructure.
Target audience: ICT-intensive SMEs
Main takeaways:
Learn why cyber security should become your top business priority & how it can be affordable for European SMEs.
Make your own cyber security assessment report during the hands-on session and get your personalised report
See how other SMEs are benefitting from real-time cyber risk monitoring
Workshop Agenda:
TIME
TOPIC
09:00–09:30
Registration and Welcome Coffee
09:30–09:55

Introduction and State of play in Romania
Andrei Kelemen, Executive Director, Cluj IT Cluster

09:55-10:10

WISER and the Democratisation of Cyber Security

Michele Nannipieri, Project Coordination Director, Trust-IT Services Ltd

10:10-10:55

Your Company's cyber security assessment – Hands-on session using CyberWISER Light with Q&A to share with us your feedback and specific requests

Anze Zitnik, Researcher and Developer, XLAB

10:55-11:30

Networking coffee

11:30-11:50

Real-time monitoring of cyber risks – A user's story on CyberWISER Essential

Emil Capusneaunu, COO, Ristronics

11:50-12:30

Panel: Starting the SME Journey to Cyber Security

Andrei Kelemen, Executive Director, Cluj IT Cluster; Anze Zitnik, XLAB; Emil Capusneaunu, COO, Ristronics

12:30-13:00

Your Essential Guide on the GDPR

Prof. Avv. Giovanni Comandé, Scuola Sant'Anna, Pisa and SMARTLEX S.R.L
13:00-13:10

Wrap-up and Conclusions

Andrei Kelemen, Executive Director, Cluj IT Cluster

13:10
Networking Lunch