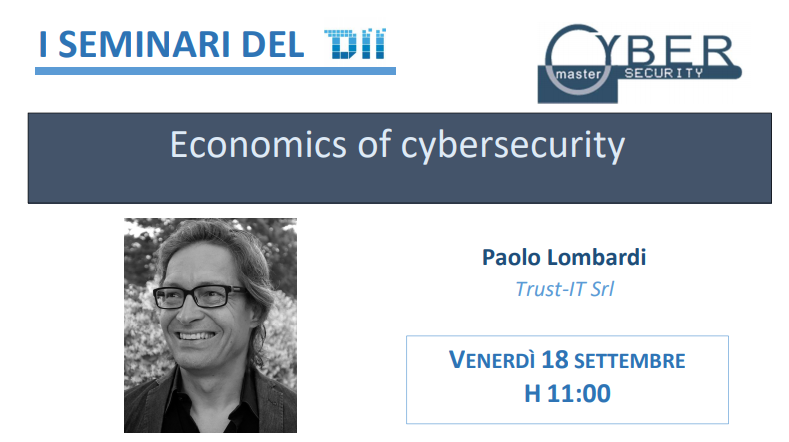 Date:
Friday, 18 September, 2020 - 09:45
CET
Trust-IT will be present to the Universirty of Pisa seminar on the "Economics of cybersecurity", covering practical and financial aspects from a business-centric and SME perspective in a highly complex and dynamic cybersecurity landscape. Key insights will come from Paolo Lombardi, Director and Shareholder at Trust-IT Services and founder of COMMpla. The seminar is for cybersecurity master students at the Department of Computer Science Engineering. 
CYBERWISER.eu is currently used by the master students (here their interviews with feedback) from the University of Pisa as one of CYBERWISER.eu Full-Scale Pilot.
CYBERWISER.eu is allowing students to improve cybersecurity skills and increase their career prospects in the cybersecurity landscape thanks to a mix of both theoretic and hands-on training sessions at multiple levels, spanning generic web vulnerability applications, firewall and network filtering, among others.

Who is Paolo?
Paolo is director and shareholder at Trust-IT and director and founder of COMMpla, two Italian SMEs operating in the field of digital services and communications. He has over 25 years' experience in ICT project management and, among his previous assignments, he has been head of Internet Banking and digital transformation at Monte dei Paschi di Siena (Italy's third largest bank). Paolo holds a summa cum laude Master's degree in Nuclear Engineering from the University of Pisa (1989), and has been appointed as Post-Graduate Researcher at the University of California, Santa Barbara, publishing work in computational fluid dynamics and artificial neural networks. He has been involved in design and execution of Research & Innovation Projects in ICT since 1992 and has been a project reviewer and evaluator for the European Commission for the past 20 years. His current scientific and technical interests range from cybersecurity to AI and advanced web-based services.