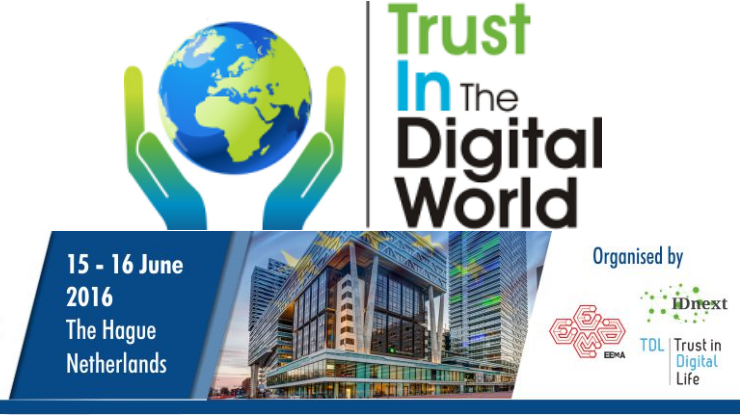 Date:
Wednesday, 15 June, 2016 - 00:00
CET
The Trust in the Digital World (TDW) conference is an annual two-day event in 2016 jointly organized and managed by EEMA, TDL and IDnext.
The event is a mixture of practical demonstrations, presentations, panel discussions and "un-conference" session covering key challenges, visions and strategies. It is an indispensable event for those in business, public sector and government who are involved in the policy, security, systems and processes surrounding trust.
Topics include:
Succeeding in Business in a Mobile World
Transformative IT through Agile Cloud Solutions
Smart Cities and Cars– smart connected citizens
Avoiding a Cybersecurity Disaster – Risk Management & Governance
Disrupting Markets with the Internet of Things (IOT)
Blockchain Identity: sounds too good to be true. Is it?
Privacy in a digital world: sounds too good to be true. Is it?
Fernando Carmona from ATOS will be sharing insights on R&I initiatives on cyber security in the session on Transformative IT through Agile Cloud Solutions. WISER and its first service, CyberWISER Light, will be promoted through discussions and the distribution of our latest flier.
CyberWISER Light a first important step towards better cyber risk management while also enabling organisations to conduct repeated vulnerability testing, making it easier to define a strategy for maximum protection of business assets with fresh data on its exposure to risk.
TDL2016  is supported by Gemeente Den Haag (GDH), DG CONNECT (European Commission) and ENISA.