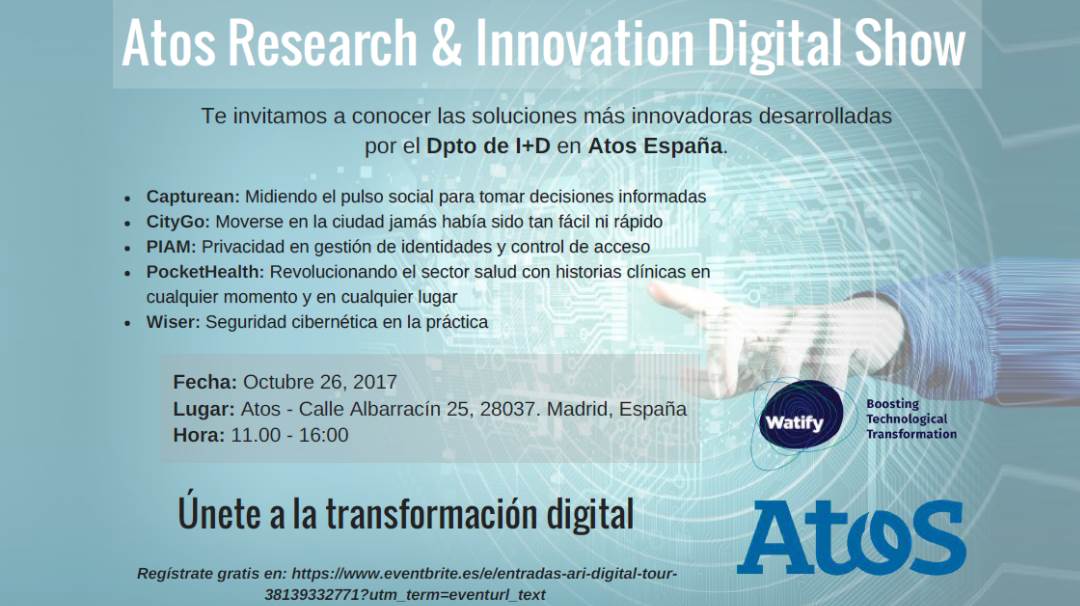 Date:
Thursday, 26 October, 2017 - 09:00
CET
Venue: Atos - Calle Albarracín 25, 28037. Madrid, España
Title: "Cybersecurity in practice" - Get your free cyber-risk assessment with WISER's innovative services
Description: 
Atos Research and Innovation Digital Show, is oganized by Atos Spain on 26 October 2017. The event promotes some of the innovations and solutions that have been developed by the Research and Innovation team in Atos Spain, and raise awareness about the importance of digital transformation in SMEs in sectors such as: manufacturing, health, financial and insurance services, creative industries, mechanical engineering, retail, agriculture, construction, tourism, among others.
The event will include presentations from:
Capture: Measuring the social pulse to make informed decisions
CityGo: Moving in the city has never been so easy or fast
PIAM: Privacy in identity management and access control
Pocket mHealth: Revolutionizing the health sector with medical records anytime, anywhere
WISER: Cybersecurity in practice
WISER will play an active role in the event with a hour and a half workshop on how to make cybersecurity affordable and efficient for SMEs. Aljosa Pasic, Technology Transfer Director at Atos Spain will chair the workshop.
Target audience: ICT-intensive SMEs