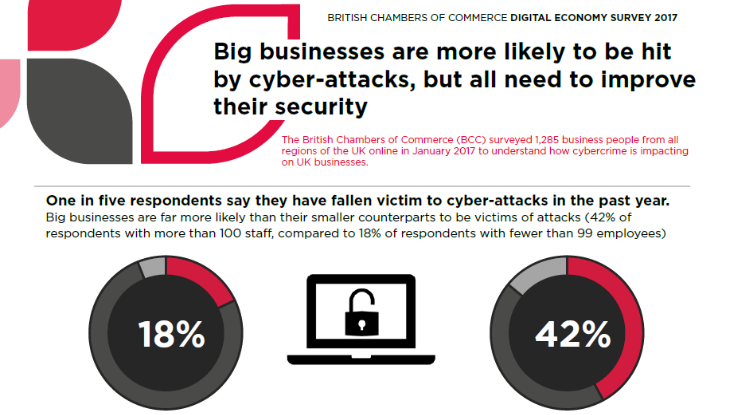 18 Apr 2017
The British Chambers of Commerce surveyed more than 1000 business people from all regions of the UK online in January 2017 to understand how cybercrime is impacting on UK businesses.
The results show that one in five businesses (20%) have fallen victim to a cyber-attack in the past year. Big businesses are far more likely than their smaller counterparts to be victims of attacks (42% of companies with more than 100 staff, compared to 18% of companies with fewer than 99 employees).
One of the key issues that the BCC calls out is the lack of cyber security accreditation among businesses. Only a quarter (24%) of businesses have cyber security accreditations in place. Smaller businesses are far less likely to have accreditation (10% of sole traders and 15% of those with 1-4 employees) than big businesses (47% with more than 100 employees). Of the businesses that do have accreditations, half (49%) believe it gives their business a competitive advantage over rival companies, and a third (33%) consider it important in creating a more secure environment when trading with other businesses.
The results also indicate that businesses are most reliant on IT providers (63%) to resolve issues after an attack, compared to banks and financial institutions (12%) or police and law enforcement (2%).
Source: www.britishchambers.org.uk