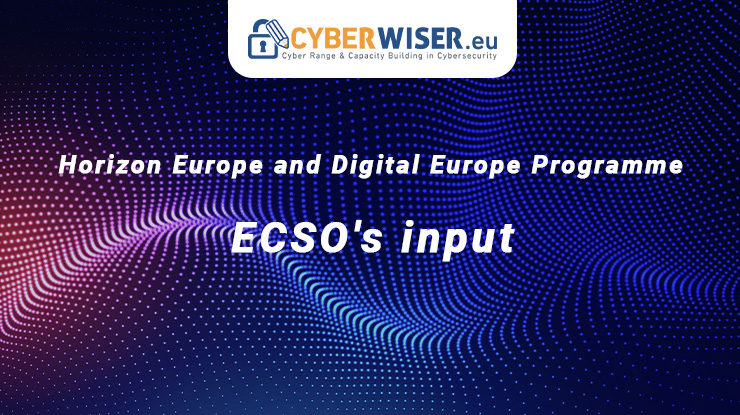 1 Feb 2021
The European Cyber Security Organisation (ECSO) has recently published its input to the Horizon Europe Programme. The document identifies four main pillars, or strategic areas for investment, that could be supported by the coming Horizon Europe Programme, to develop a cybersecurity research and innovation strategy in Europe to increase digital autonomy and respond to the needs of European industrial sectors while protecting the European fundamental rights.
The four pillars
Ecosystem, social good and citizens: The first pillar of the proposed R&I strategy highlights the importance of creating a cybersecurity culture and best practices that address the needs of the citizens and develop the skills needed to cope with a fast-changing digital society. Citizens' perception of cyber technologies, in fact, is connected closely with education and awareness.

Application domains and infrastructure: Enhance the security level of highly critical infrastructure, including, energy (electricity, gas, oil), water distribution, telecommunications, etc. to reduce the impact of cyber threats on the business community.

Data and economy: Securing the data and the algorithms that operate on top of them, is the foundation to create a  trustworthy and reliable data-driven economy in the Digital Single Market.

Basic and disruptive technologies: It will be crucial to secure the technologies that are expected to impact markets, industries and citizens, such as Artificial Intelligence, Blockchain, Internet of Things, and Quantum Computing.
The massive exposure of vulnerable systems that is shaking the stakeholders, cybersecurity professionals, politicians and even the military decision makers confirm the need for a European sovereign approach to large-scale capacity building. As ECSO we focus on giving tangible value for the European community and such we welcome the new Horizon operationally driven projects aimed at raising cyber resilience as they have a constantly growing significance in our quest for achieving European digital sovereignty.

Csaba Virag, member of the Board of Directors and Co-Chair of WG5 on Education, skills, awareness and cyber ranges and of the CYBERWISER.eu Stakeholders Expert Board.
Research and cybersecurity: CYBERWISER.eu's contribution
The Horizon 2020 project CYBERWISER.eu is already contributing to the first two pillars by offering a vast range of free services available to SMEs, Higher Education Students, Large Enterprises and Public Sector Organisations, such as the SMEs Cybersecurity Assessment, the customisable hands-on CYBERWISER.EU Cybersecurity training courses Primer, Basic, Intermediate and Advanced, and the first free European Cybersecurity Professional Register (CyPR) to promote the cybersecurity excellence of European Cybersecurity Experts.