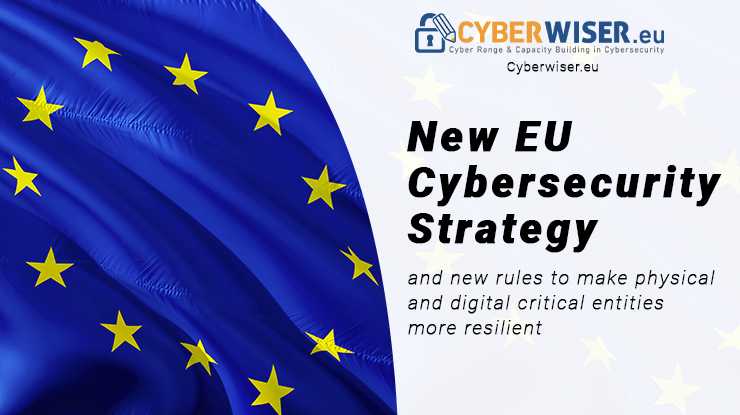 17 Dec 2020
On Wednesday 16th December 2020 the European Commission has released a new EU Cybersecurity Strategy.
The new Cybersecurity Strategy will play a key role in strengthening Europe's resilience against cyber threats and in ensuring the creation of reliable services and digital tools for citizens and businesses.
With this Cybersecurity Strategy, Europe will increase its leadership on international norms and standards in cyberspace by strengthening the cooperation with partners around the world to promote secure cyberspace.
Three main areas of action to increase the European cybersecurity resilience leadership
At the core of the new strategy, there is the safeguard of an open and secure internet to protects European values with policy initiatives in three main areas:
Resilience, technological sovereignty and leadership:

Launch a network of Security Operations Centres across the EU, powered by artificial intelligence (AI) to detect signs of a cyber attack early enough and to enable proactive action, before damage occurs;
Increase the level of cyber resilience of critical public and private sectors, such as hospitals, energy grids, railways, public administrations, research labs and manufacturing of critical medical devices and medicines, etc.;
Dedicated support to SMEs under the Digital Innovation Hubs and increased efforts to increase the cybersecurity competitiveness of the workforce.

Building operational capacity to prevent, deter and respond: 

Strengthen cooperation between EU bodies and Member State authorities with a new Joint Cyber unit;
Strengthen the EU Cyber Diplomacy Toolbox to prevent and respond effectively against malicious cyber activities against critical infrastructure, supply chains, democratic institutions and processes.

Advancing global and open cyberspace through increased cooperation:

Promotion of international security and stability in cyberspace, and protect human rights and fundamental freedoms online by working with international partners in the united nations and other relevant fora;
Develop an EU External Cyber Capacity Building Agenda to increase cyber capacity-building efforts to third countries;
Creation of an EU Cyber Diplomacy Network around the world to promote the European vision of cyberspace.
CYBERWISER.eu's Contribution to the EU Cybersecurity landscape
As part of the European Vision to strengthen the European SMEs cybersecurity resilience and capacity building capabilities, The Horizon2020 project CYBERWISER.eu is offering a vast range of free services available to SMEs, Higher Education Students, Large Enterprises and Public Sector Organisations, such as the SMEs Cybersecurity Assessment, the customisable hands-on CYBERWISER.EU Cybersecurity training courses Primer, Basic, Intermediate and Advanced, and the first free European Cybersecurity Professional Register (CyPR) to promote the cybersecurity excellence of European Cybersecurity Experts.
Cybersecurity risks continue to evolve with growing digitalisation and interconnectedness.
Among the keys to the successful implementation of the new cybersecurity strategy and the achievement of all the expected goals, there will be increased collaboration between various relevant actors at a national level and a general increase in the cybersecurity awareness of the population and SMEs level.