St. Valentine's name comes from 'Valentinus', which is taken from the Latin word for 'worthy, strong or powerful'.

This is exactly how digital businesses should be in their approach to cyber security. And remember - cyber criminals are adept at targeting holidays and current events as bait for attacks.

St Valentine's Day is no exception. Messages targeting this special day are expected to quadruple globally.
Here are 4 essential steps for mitigating your exposure to cyber risks:
Pay special attention to emails: never open emails, attachments or click links from unknown sources. Never provide confidential financial information via email.
Beware of online requests on social media: make connections only with people you know or through trusted sources as sites like Facebook and LinkedIn are regularly compromised through rogue communications.
Avoid phishing scams: most phishing emails will take you to web pages requesting financial or personal information. NEVER provide any such information.
Adopt a much more focused approach to cyber risk management: all businesses are at risk, whether they are a Fortune 500 company, a family-run business or a utility company. Smart cyber risk management starts with a self-assessment of vulnerabilities in the IT system underpinning your digital business.
Use CyberWISER Light to identify these risks from a FREE downloadable report and start taking steps to mitigate them. This online tool is designed for any digital business - you don't need to be IT-savvy to use it.
---
One more essential step towatds better informed cyber security strategies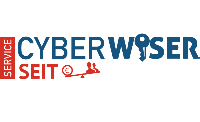 While more and more businesses understand they need better protection against cyber risks, many are not sure about how to get started and how much they should be investing.

The new CyberWISER tool – SEIT helps small digital businesses and IT teams in public administration assess the impact of a cyber attack on their organisation.

This online tool, currently released in BETA, is specially designed to help small organisations increase their awareness of the effects of cyber attacks without needing IT experts or spending a single euro.
Start using this FREE online tool today to understand the economic and non-economic impacts of cyber security breaches on your organisation.
Try now CyberWISER SEIT and download your FREE personalised report