With data breaches hitting the headlines everyday, there's never been a better time to maximize cyber security awareness and translate it into pragmatic results.
And WISER played its part in contributing to the goals of the European Cyber Security Month last month: raising awareness to create a risk-management culture across EU businesses and public sector organisations.
Here's a snapshot of our contributions.
---
WISER Initiatives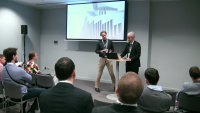 Watch the WISER presentation at DSS ITSEC 2016: learn how WISER is making cyber security accessible and affordable for SMEs and small IT teams so it becomes part of the business process with regular cyber risk profiling and vulnerability testing, essential steps towards a better security posture.

Learn about the full suite of WISER services that will be on the market in 2017 and access our essential guides on new EU regulations and our analysis of national cyber security strategies.
---
4th International Workshop on Risk Assessment and Risk-driven Quality Assurance (RISK)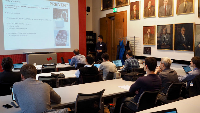 On 18 October 2016, Gencer Erdogan (SINTEF) presented WISER at the "4th International Workshop on Risk Assessment and Risk-driven Quality Assurance", where industry participants gave valuable feedback on the value of WISER services.
Features such as real-time assessment and the use of actual indicators captured from the infrastructure of the target system were among the points highlighted.
Participants also expressed interest in the economic and social impact assessments as useful per se but also as a tool used in companies as an integral part of the cyber risk assessment, helping prioritise mitigation actions.
---
WISER interview with Roberto Baldoni, director of Italian Cyber Security National Laboratory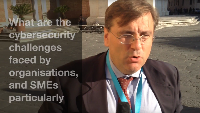 Roberto Baldoni explains why cyber security has to be a top priority for European organizations and SMEs in particular, highlighting several new EU initiatives supporting awareness raising on cyber security.
An overview of the Italian National Cyber Security Strategy is also given with focus on next priorities and international collaborations.
The video was shot during the Internet Festival 2016 in Pisa, Italy.
---
WISER takeaways from Internet Festival 2016 - Pisa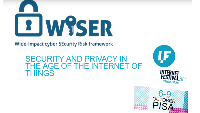 "SMEs need to share knowledge, intelligence and technical solution to mitigate the fast evolving cyber threats." This is one of the main takeaways of Federico Santi (Hewlett Packard Enterprise) of the "Security and privacy in the age of the Internet of Things" session held at the Internet Festival 2016 in Pisa.
The panel discussion was focused on the cyber security and privacy challenges that IoT & connected devices can bring to society. With more and more connected devices around the world cyber security is a collective challenge that society needs to address.
---