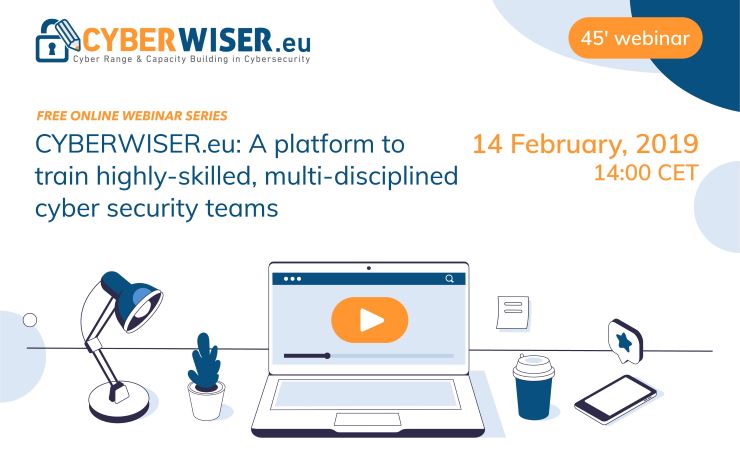 Date:
Thursday, 14 February, 2019 - 12:00
CET
This webinar will zoom in on the importance of advanced cyber security skills for effective and rapid response in a fast-evolving and complex cyber risk landscape.
The webinar will present the planned work of CYBERWISER.eu, which aims to be the EU's reference for an authoritative, independent cybersecurity platform for professional training.
AGENDA
14:00 - 14:10 -  The CYBERWISER.eu project - Antonio Alvarez Romero (ATOS and CYBERWISER.eu project coordinator)
This presentation will briefly introduce the project and planned simulated environment to create cyber incident and cyber attacks scenarios where both students and IT professionals evolve their skills and continuously evaluate their performance, getting ready for future real attack episodes. SMEs can benefit from the results of this project.
14:10 - 14:20 -  Innovative aspects in cyber range solutions - Matteo Merialdo (RHEA GROUP)
This presentation will present innovative aspects in cyber range solutions for cyber simulation and training that CYBERWISER.eu will adopt in its lifetime.
14:20 - 14:30 -  

CYBERWISER.eu on Critical Energy Infrastructures

- Liliana Ribeiro (EDP).


Critical Energy Infrastructures are a vital component of modern societies and their resilience against cyber-attacks is a major concern. A Cyber Range is a fundamental capability for companies to simulate cyber-attacks, improve cyber security incident response and raise overall awareness to the topic among employees. Due to their nature, critical energy infrastructures have to account for legacy systems and geographically distributed locations, making it especially challenging to provide adequate cyber security training to all employees. CYBERWISER is an opportunity to overcome existing limitations by offering more dynamic approaches and improving Cyber Range training offers.

14:30 - 14:40 -  Q&A
REGISTRATION
The webinar is free of charge and will be held online. To register please click on the link below.
REGISTRATION IS NOW CLOSED